If you're unfortunate enough to get your account disabled, no use in panicking. Your advertising activity is not over. Facebook is not one of those platforms that ban accounts permanently. If your Ad account gets disabled, it's not the end of the world. Brace yourself up for a fight to get your account back.
Usually, Ad accounts get disabled for violating one of Facebook advertising policies or Terms of service. You can strike a pose and claim you did nothing wrong. Actually, your ad really can be flagged by mistake in the process of automatic ad approval which leads to Ad account being disabled. But it's better to keep calm and do your best to recover your Ad account.
Earlier we published an article describing the ways to minimize the risk of getting your Ad account shut down. Whether you've read it or not, if you're reading this one, I guess your Ad account has already been disabled. Let's try to recover it as soon as possible.
What to do if your Facebook Ad Account is disabled
If you want to get your advertising account back, you'll need to go through an appeal process. When your Ad account is disabled, you'll see a red notification in your Ads Manager.
It can look like this:

Usually, along with the notification about your account being blocked, Facebook offers to "Submit an appeal". However, there might not be such an option. Most likely, there'll just be a notification about the status of your Ad account. Especially, if it's not the first time.

When it comes to the letter of an appeal, don't be like: "Hey, you shut down my account. Give it back asap!" Take time to write a polite and descriptive letter. Explain the situation in detail but don't make it too long. Let it be informative and brief at the same time.
Facebook never specifies the exact reason for a ban. That's why you can only make assumptions about what could have triggered the issue. In case you're suspecting what you could have violated, include this information. Explain that it wasn't intentional and you'll implement changes to your ads to make them compliant.
After the first appeal, you can receive the following letter from Facebook: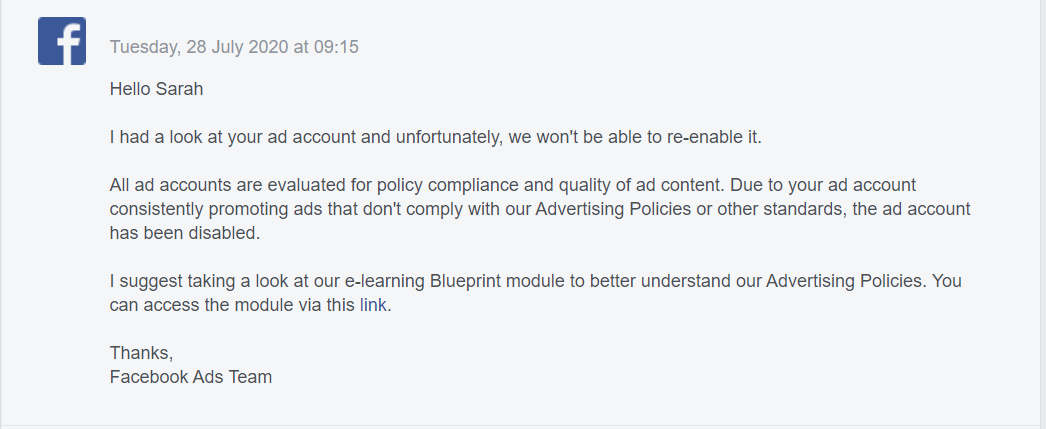 Sounds terrifying, isn't it? Especially if you're new to advertising and this never happened to you before.
It's not really the final decision as they claim. This letter is usually sent to everyone by AI. You should keep trying to contact Facebook again.
Facebook offers other ways to contact them and request a review of your Ad account: for when you violated their policies and your Ad account was disabled by mistake.
If your Ad account was disabled for violating Facebook policies, you can request a review of your Ad account:

Follow this link to open the form to submit.

- Here you have to tick "Yes" if this is your Ad account or "No" if you're managing the Ad account of your client as a marketer.

- Select an Ad account. If it doesn't appear in the dropdown list, you'll have to enter your Ad account ID manually.

- Tick the reason why you're requesting a review. Facebook is warning that because of the COVID-19 situation the review process can take longer than unusual: up to several weeks.



For the cases you think Facebook disabled your Ad account by mistake, follow this link.


- Indicate the owner of the Ad account.

- Select the Ad account, like in the first case, you might have to insert your Ad account ID manually.

- Select from the list the conditions that apply to you. Here you can also type in the additional information as you did for an appeal.

You can see your reports, replies and messages from the Facebook support team in the Support Inbox section.



Here you can track the status of your reports.
When the Ad account is finally reactivated, you'll receive the following message or something similar: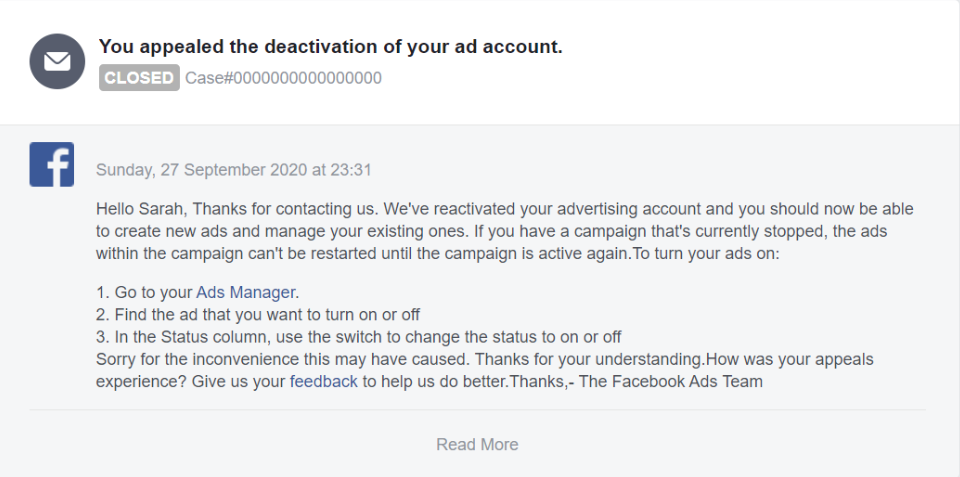 Of course, you can try to create another account but wouldn't it be a pity to lose all your data, all the hard work you've invested in it?
Actually, the main rule if you want to get your Ad account reinstated is: contact Facebook again and again. Hope you're more lucky and the appeal process won't take long.
As an option, if you have another Ad account inside your Business Manager, use that one to reach out to Facebook support. It especially will help if that one has a good reputation.
It's important to mention that there's a high possibility your account won't be activated at all.
In any case, you shouldn't resort to creating a new account immediately. Especially, do not repeat the same actions without making corrections to your ad campaign.
In the end, remember that it's better to be safe than sorry. Knowing how strict Facebook are about their advertising rules, I would recommend getting acquainted with all the factors that can get your account shut down.