In November 2021, Meta announced that they were planning an update of detailed targeting on Facebook. On January 19, these changes came into force. It affected quite a lot of advertisers and marketers, so we believe that it is important to get to the bottom of this update and what to do if it has a direct impact on you.
Facebook detailed targeting update
Detailed targeting section on the Ad Set level of an Ad Campaign used to provide a vast number of interests to choose from. Everyone was able to find the right interests that best described their buyer persona and thus target a relevant audience. However, due to the latest Facebook update, a lot of these interests became unavailable.
As Facebook says, most of the advertisers won't even notice these changes as the removed interests were not widely used. Still, the withdrawn interests are related to health, race, ethnicity, politics, religion, and sexual orientation, which seem to be quite popular spheres nowadays.

So, due to these Facebook changes, the interests associated with these topics can no longer be used for audience creation. The ads that had been using them were paused on March 17 to prevent misdelivery.
Sure, all the businesses that have nothing to do with these spheres aren't affected by these changes. But what about those who were actively targeting these specific Facebook interests? Or marketing agencies that have clients from various areas? Well, here are the options suggested by Facebook.
Facebook targeting recommendations
The first and the most accurate option for businesses that want to connect with their clients is to create a custom audience based on people who've liked their Facebook and Instagram pages, watched their videos, and so on. You can base your audience on the following sources:


Sure, people who've shown direct interest in the company and its social media pages are a great option for targeting, although this is definitely not the best way to create broad audiences and attract new clients.


If you own a website and have a Facebook Pixel installed, you can also use your website engagement as a source for a custom audience. People who've opened your website either after searching for something on Google, seeing it in your previous ad, or finding it any other way are likely to be interested in your service and are worth being included in your audience. Still, this option won't let you get new clients as well.


Also, it is a good idea to use your own customer lists to create custom audiences. These may include both existing clients and potential ones that are in any case interested in your business. Again, this approach won't fit those who're willing to attract new customers.


To expand the number of reached users and approach new people, you can use all the created custom audiences as sources for lookalike audiences that will consist of similar people with a specific percent of affinity. Keep in mind that you should use a custom audience that performed in ads well and showed great results. Also, lookalike audiences usually consist of millions of users, thus making your targeting too broad and less relevant.


For local brick-and-mortar businesses, standard demographic filters may be quite enough to reach people living in a single place. This way will fit only those businesses who are selling more general products and services as niche products are unlikely to be sold to people filtered by location and other basic characteristics only.
As you can see, Facebook suggests multiple variants of solving this issue, yet all of them either don't approach new people, are too broad, or include too many irrelevant users. LeadEnforce allows businesses to avoid these drawbacks and target specific and accurate audiences even if the interests you've depended on have disappeared.
How to reach your target audience with LeadEnforce
A lot of specific businesses related to healthcare, religion, and so on have really lost the ability to create truly targeted saved audiences directly on Facebook. They believe that there's no other way to single out a group of people connected with a particular interest. Well, that's not exactly true as these people are gathered together on Facebook pages, groups, and Instagram profiles.
LeadEnforce is the tool that allows you to target people who have joined certain Facebook groups and follow specific Facebook and Instagram pages. This is a unique marketing opportunity, that is why this approach will definitely be useful not only for those whose targeting options have been limited with the update mentioned above but for everyone who advertises on Facebook.

First of all, even in the absence of the necessary filter in Facebook interest search, you are highly likely to find groups and pages that bring people you want to target together. Moreover, these users join conversations, share news, and like posts, so you can be sure that they are engaged and interested. At the same time, interest filters can be either removed or assigned a bit randomly thus including irrelevant people.
Second, it is a great way to show your ads to your competitors' clients by using their Facebook and Instagram pages as sources for audiences. You'll just need to make sure that your offer is more profitable and your ad is more eye-catching that your competitors' ones.
Third, creating audiences on LeadEnforce is as easy as pie. Literally, everything you need to do is to provide the service with the links to the groups and pages you're interested in.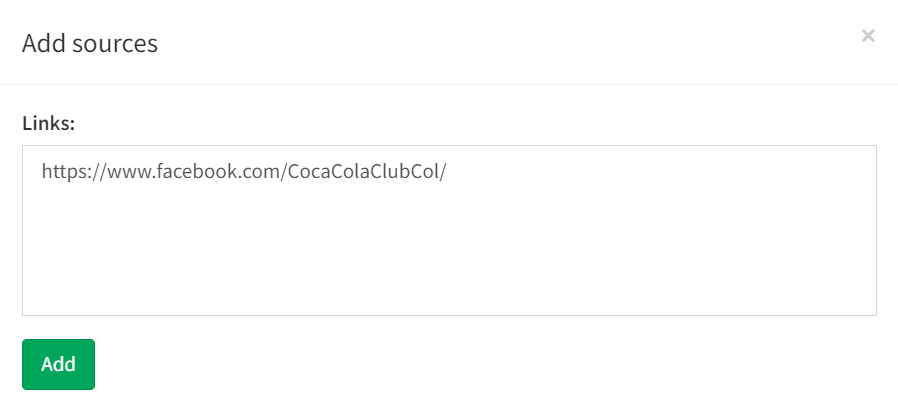 This way, you will create a custom audience consisting of the sources' members and followers. Then, you'll just need to use this audience in your Facebook ad campaigns.
By using LeadEnforce audiences, you'll see a significant improvement in ads' results as they will then be targeted at the most relevant users that will be happy to get your offer and purchase a product they really need. The key advantage of LeadEnforce is that with it, you can reach the exact people who have actually shown interest in the topic. They voluntarily join the groups and follow the pages, start conversations, and like posts. They are the perfect audience that you need to target in order to make a sale, and LeadEnforce is the tool that will help you do that.
Conclusion
Facebook update that removed particular options from interest targeting affected a lot of advertisers. A lot of marketers are now sure that they are not able to build accurate audiences on Facebook anymore. You shouldn't worry though as there is a perfect solution that will help you reach your target audience. This solution is LeadEnforce, a tool that will help you use specific group members and page followers as an audience for your ads.