Facebook allows you to manage your own accounts or other people's accounts inside one tool and that is Business Manager. In your Business Manager you can store Ad accounts that are owned by you or other people and use them for various purposes: manage campaigns, view analytics, control finances, and so on. Business Managers can have different types of access to Ad accounts.
The Ad account can be added to your Business Manager but don't belong to it. In this case, you'll see the owner of the Ad account under the name of it:

Compare this one with Ad account 2 that has no additional info under it: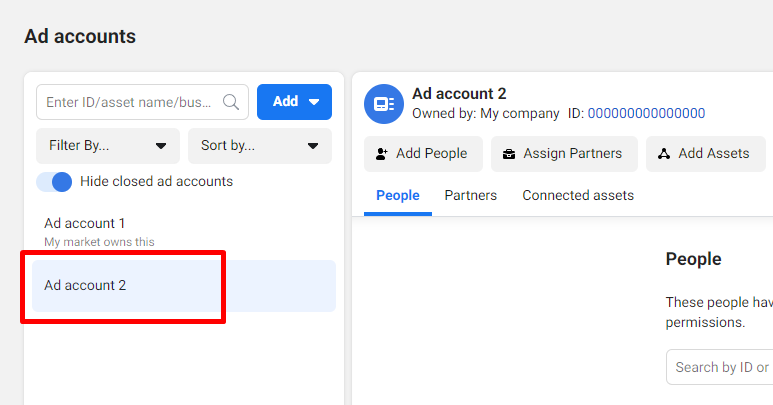 It means Ad account 2 belongs to this particular Business Manager. Let's further look into how you can add Ad account to Business Manager so that it will or will not belong to it.
Three ways to add Ad account to Business Manager
When you click on "Add" you're presented with 3 different options: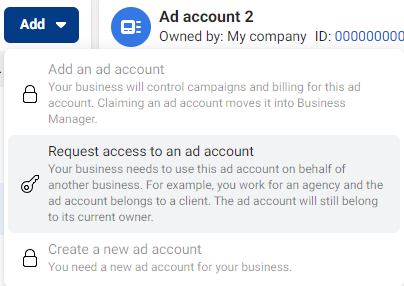 Add an ad account

This option moves the Ad account into the Business Manager. Meaning the Ad account will "belong" to the Business Manager and your business will own it. You'll be able to manage campaigns and billing for this account.


Request access to an ad account

If you select to request access to an ad account, you can select what kind of access you want to get.

You can be given partial access to control only some aspects concerning this Ad account or full access over this ad account. With the second option you'll be able to control all its settings and manage ads. In this case, the Ad account won't belong to the Business Manager. Moreover, you'll see the name of the business that owns this Ad account as proof.


Create a new ad account

This option allows you to create a brand new Ad account from scratch inside your Business Manager.

It's not always available because Facebook limits the number of Ad accounts you can create while you're still making your first steps in Facebook advertising.

Anyway, think about whether you really need a new Ad account? Thankfully there's an opportunity to run multiple advertising campaigns inside one account.
Conclusion
To sum up, though there is no single way to connect an Ad account with a particular Business Manager, pay attention to what kind of access you need and what you're planning to use it for. Different types of access enable you to carry out different functions.