You might be wondering why Facebook is reinventing stuff that is already well-known and long available. Facebook Ad testing isn't something new. It's been actively used by any advertiser who cares about optimizing the ads. But now it's much easier. The point is that earlier there were two separate elements: Split test and Test & Learn including multiple tools for testing Facebook ads.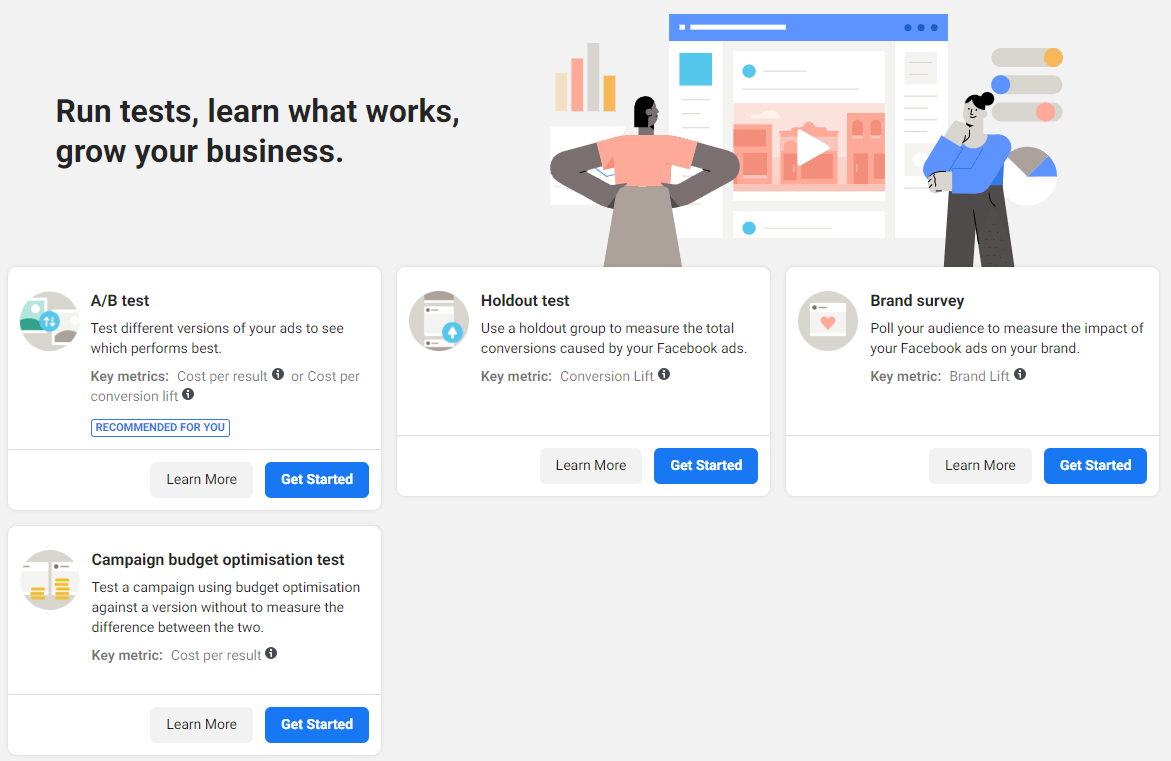 Facebook gathered all of them in the new Experiments section to make it easier for you to manage and track all your Facebook ads testing in one place.
It's very wisely organized with a lot of guidelines and descriptions provided.
A/B Tests
With A/B Tests, also called Split Tests, you compare different versions of your ads to see what best resonates with your audience. You change the variables to find the one that outperforms others. It can be carried out on one or a group of campaigns or on ad sets.
Users can be very sensitive to details. A size, color, font of the CTA button may seem like a trifle to you but have a significant impact on ad performance.
It works like this. You choose two items you want to compare: image, video, ad text, age and gender, saved audience, or CBO.

Then Facebook creates two different ad campaigns and equally divides your budget between two versions.
It's better to compare small changes. So that at the end of the "competition" you would have clear-cut results and know for sure which word, phrase, element of an image or CTA had a better impact on your audience.
It's like a competition where Facebook chooses the winner based on the selected metrics like CPC or CPM.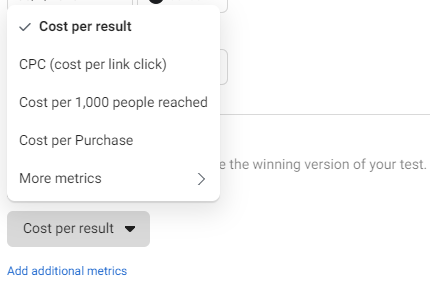 Another option is to compare existing active ads. You select either campaign groups, campaigns, or ad sets.
Facebook added a feature to create a holdout group for the A/B testing. Facebook will single out 10% of the audience that will not see your ads at all. This way you'll be able to compare the conversion results for the group of people who saw your ads and for those who didn't. Basically, this test will show the overall influence of your Facebook ads on conversions.
To learn more about Facebook A/B testing and how to set it up, you can read an article from our blog if you follow this link.
Holdout Test
Another way to test your ad efficiency is a holdout test. I've already mentioned holdout tests a bit earlier when talking about A/B testing. It partially can be carried out inside an A/B test in combination with testing various ad elements.
In short, in a holdout test Facebook puts a part of your audience in a holdout phase. We can call it a holdout, or control group. The test group that will see your ads and the control group will not have such an opportunity.
Unlike A/B tests, holdout tests are not for comparing campaigns with each other but for measuring the conversion lift. Briefly, it compares the people who converted after seeing yourFacebook ad and those who were artificially withheld from seeing your ad at all.
Basically, holdout tests are a way to measure the impact of your ad campaigns on your target audience. This comes in handy when you're advertising on multiple platforms or using various marketing channels. With the help of this test you're able to see whether your Facebook ad campaigns have a real value for getting conversions.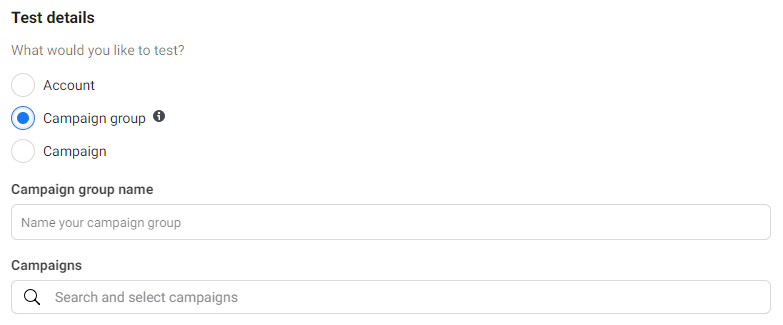 The holdout test can be held on one ad campaign, a group of ad campaigns or across all campaigns inside an Ad account.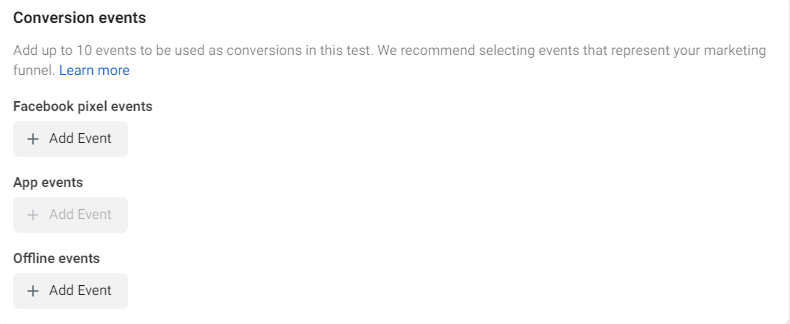 Here you need to choose the conversion events to be measured for the test. The choice should be based on the customer journey for your product or service.
Brand Survey
As well as in the case with holdout tests in the Brand Survey type of test the audience is divided into a test group and a control group. The first one sees your ads and the latter is in the holdout, in other words, they're not shown your ads.
A Brand Survey test can be run on one campaign or across all campaigns inside one Ad account.
The difference is that with Brand Survey the main point is in creating a poll for your current or potential clients. The poll has a purpose of measuring your ad recall.
This test helps advertisers evaluate the brand awareness.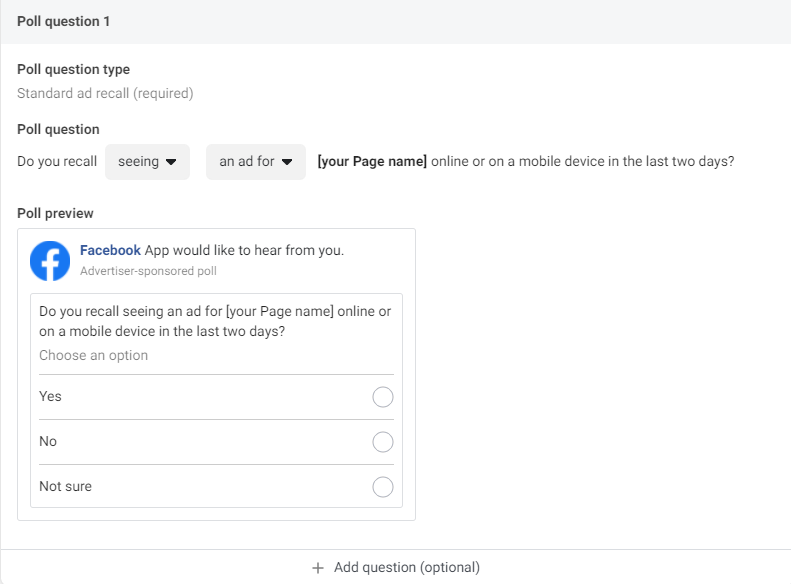 There might be questions like "Do you recall seeing this ad?" or "Do you recall seeing an ad for this product/brand/page?"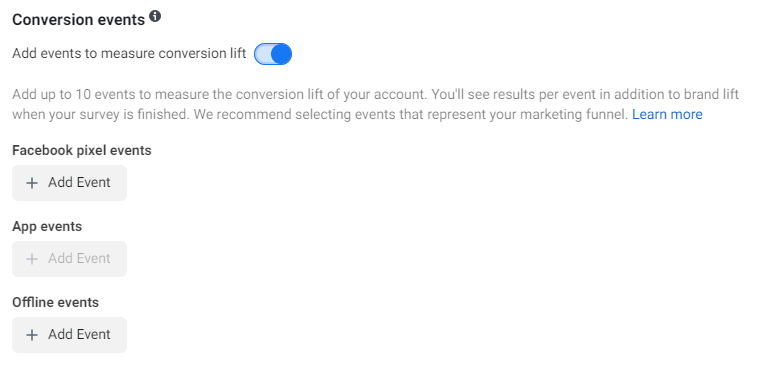 Additionally here you can select conversion events and track conversion lift results.
This type of test has some limitations. Firstly, it isn't available in all the regions yet. Secondly, there is a minimum budget spend you should reach. Here you can learn more about where you can run a brand lift test and what minimum budget you must set for your campaigns.
Campaign Budget Optimization
Facebook singled out this type of test in the "Tests" menu along with the above three ones. Yet basically CBO is just one of the variables inside A/B testing.
The concept of Campaign budget optimization test is comparing results of a campaign using budget optimization with the one that isn't.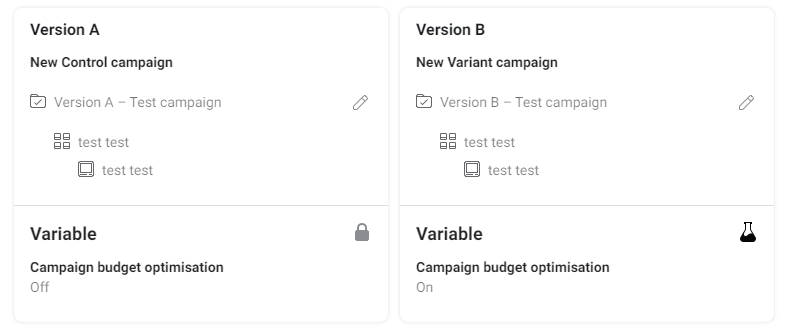 Facebook creates two new ad campaigns. Here you have to choose the existing campaign and the variable. In this case the variable is the Campaign budget optimization. Facebook will create a new campaign using the same budget settings you selected for that audience and another campaign using campaign budget optimization.
Note that the campaign that you're using as a basis for this test will be paused. Version 1 of two new created campaigns will be the copy of the basis with the selected budget settings. Version 2 will be using the CBO.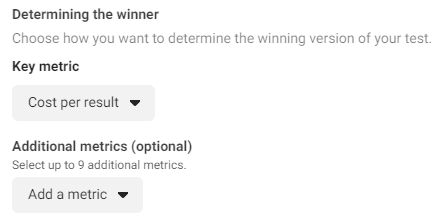 You can select up to 10 metrics in general to find the winner of the test.
Facebook provides the estimated test power for all types of tests. The test power calculates the level of success of the test based on the chosen variables, budget, key metric, etc. This number is approximate and only helps you to determine what parameters would bring you better results.
Conclusion
Using Facebook ad testing you can identify the components of your ad campaigns that work best for you in each case and improve your marketing results.
Why not just run multiple similar campaigns making slight changes? Well, first of all, Facebook Experiments help you avoid audience overlapping, it's what concerns the tests where the audience is divided into groups.
Secondly, this tool allows you to get more objective results because, for example, the CBO test divides the budget evenly between all ad sets.
And last but not least, when you're lost and need some clarity, Facebook experiments are there to make life easier for you. Knowing what ad components deliver best, you can make further marketing steps based not just on your assumptions but real data.