1. Facebook and Instagram Shops
Facebook Page shops and Instagram profile shops are now automatically converted to Facebook shops. This update allows the customers to stay in-app and easily access the product range through Facebook or Instagram without having to load the website.
To use Facebook shops as a seller you need to set a Commerce Manager. There you can access all the available tools for shops.

Facebook offers a lot of room for customizing your shop. The products can be broken down into categories. There's an easy interface to help you tailor and personalize your design and style the way you want it. You can also add and arrange new collections.
Now the customers can complete the purchase in a way that is most convenient for them, the customer can be redirected to the website, contact the seller via direct messages, or do it right on Facebook/Instagram shop if the seller has set up a shop with a checkout.


2. New Experiments section in the Facebook menu
Facebook opened up new opportunities for maximizing your ad results through experimenting. They added the section where you can track and manage your ad tests and their results.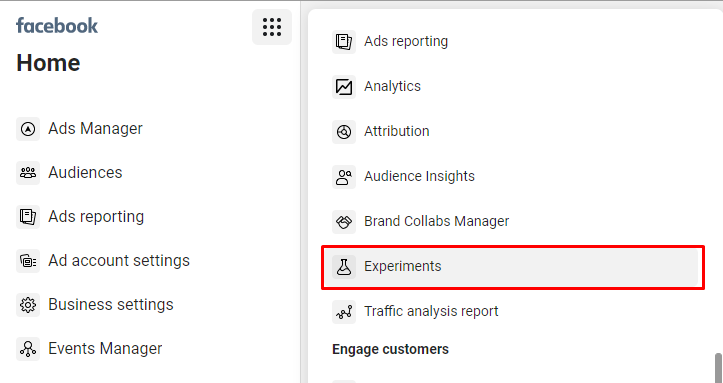 The functionality itself is not new. It's just that now it's easy to create and access all your tests in one place.
Facebook provides four types of tests:
A/B tests. A/B tests help advertisers compare different images, texts and other variables to find what resonates best with an audience.
Holdout Tests. Holdout Tests let you measure the influence of your ads on conversions. Your audience is divided into two groups. The first will see your ad and the other will be in the holdout phase. Based on the results of the test you will be able to evaluate the effectiveness of your ads and further optimize them.
Brand Surveys. Your audience is also divided into groups that will or will not see your ads. The difference is in this case they'll go through polling. The results of the poll will help you evaluate the impact of your ads on your brand awareness.
Campaign Budget Optimization tests. The idea of these tests is quite simple, you compare the results of the campaign using the budget optimization with the one that isn't.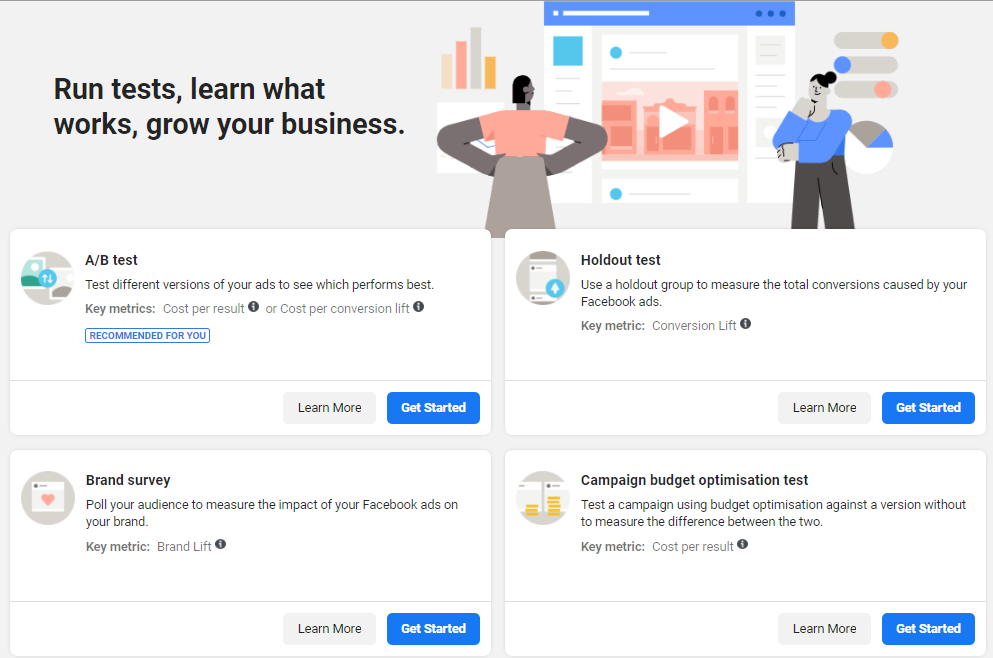 Facebook provides additional information for each test. The Learn more button will redirect you to a detailed description and a step-by-step guide to help you set up the test.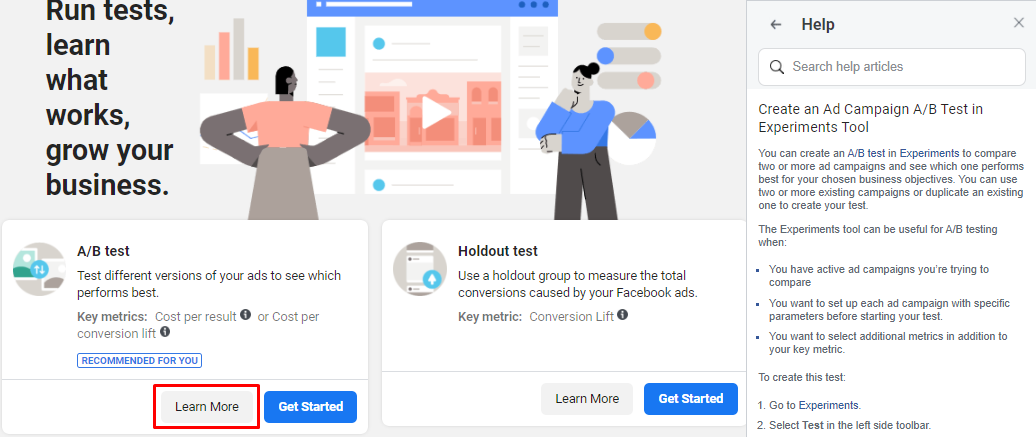 With this Facebook update you have no excuses to avoid ad testing. Facebook made it as easy as possible for you to start experimenting to learn more and optimize your ads wisely.

3. Paid online events
Facebook skillfully adapts to the changing world and helps people bring their businesses online. In view of "social distancing" and restrictions on offline events, Facebook made it possible to host and monetize online events. It gives many businesses the opportunity to recover, connect with their customers and stay afloat. Facebook will not collect fees from businesses at least for a year.
Basically, you create an event and set the price of admission. Customers pay for the event through Facebook and gain admission to your online event. An event can be hosted through Facebook Live. Facebook is also testing events in Messenger Rooms for small gatherings. You can host a big live concert, a yoga or fitness class, options are countless.
Not everyone can use this feature. Firstly, at the moment this Facebook update is available only in 20 countries:
Australia
Belgium
Brazil
Canada
Czech Republic
France
Germany
Hungary
India
Italy
Mexico
Netherlands
Norway
Poland
Singapore
Spain
Sweden
Ukraine
United Kingdom
United States

Secondly, your Facebook Page should be eligible to monetize. You have to meet certain requirements to use Facebook monetization tools. You can check whether you can use monetization in the Creator Studio: go to Creator Studio > click on Monetization in the menu on the left.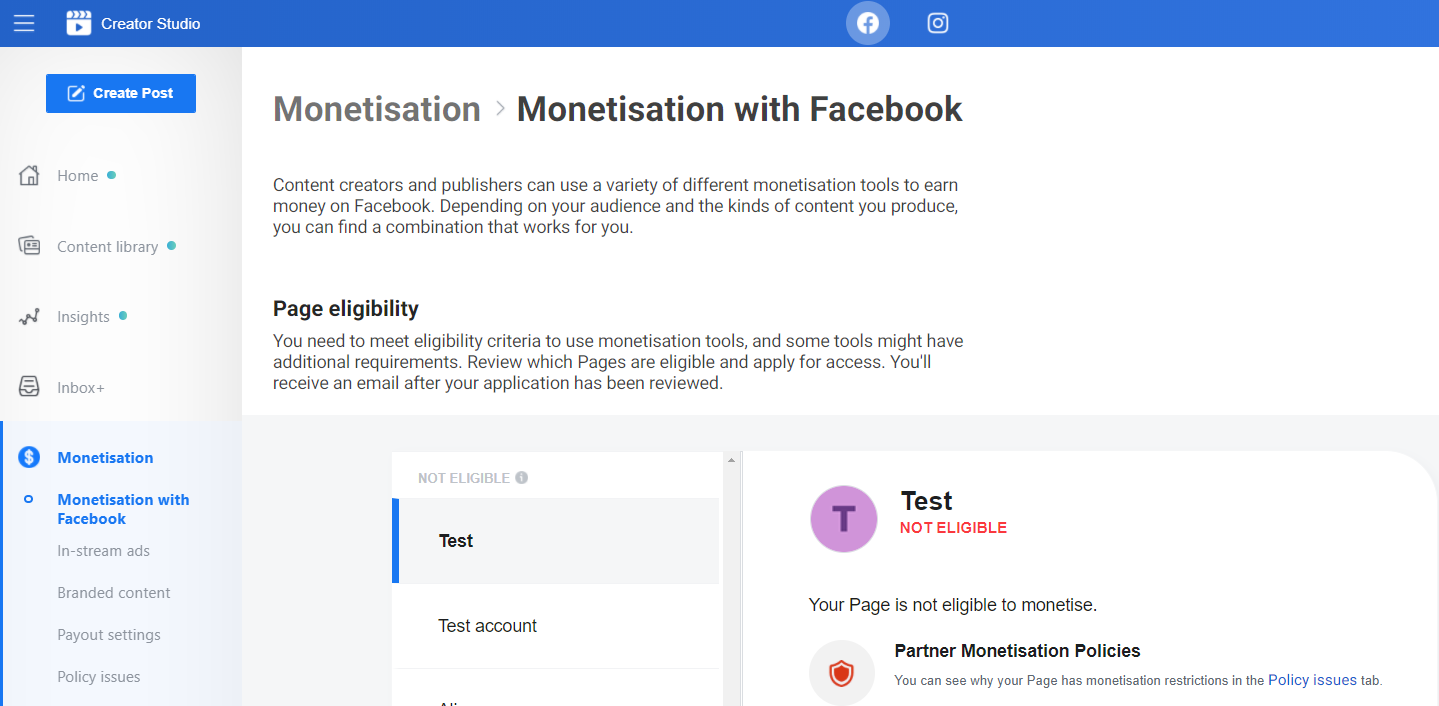 4. Instagram donations
Instagram introduced a tool for nonprofit organizations to raise money for charitable purposes. There are two ways to get donations: donation stickers in Stories and Donate button in Instagram Business account.
To be able to use this tool, your Facebook page must be categorized as charity. In addition, you must link your Instagram and Facebook account and switch your Instagram account to a Business account.
This Instagram update is currently available only in the US but Facebook promised to expand it to other regions without specifying when.

5. Shopping Custom Audiences for ads retargeting
Retargeting is a powerful way to increase conversions. In case you didn't know about Custom audiences, it's high time to check it out. Now you can create Shopping Custom audiences to retarget people who have already interacted with your brand through purchasing your product.
It's pretty easy: open your Business Manager > go to the Audiences section > click on Create Audience > choose Shopping.
Remember that such custom audiences are based on the data gathered with the help of Facebook Pixel. So before creating a Shopping Custom Audience make sure to set up a pixel. You can follow this link to learn more about Facebook Pixel.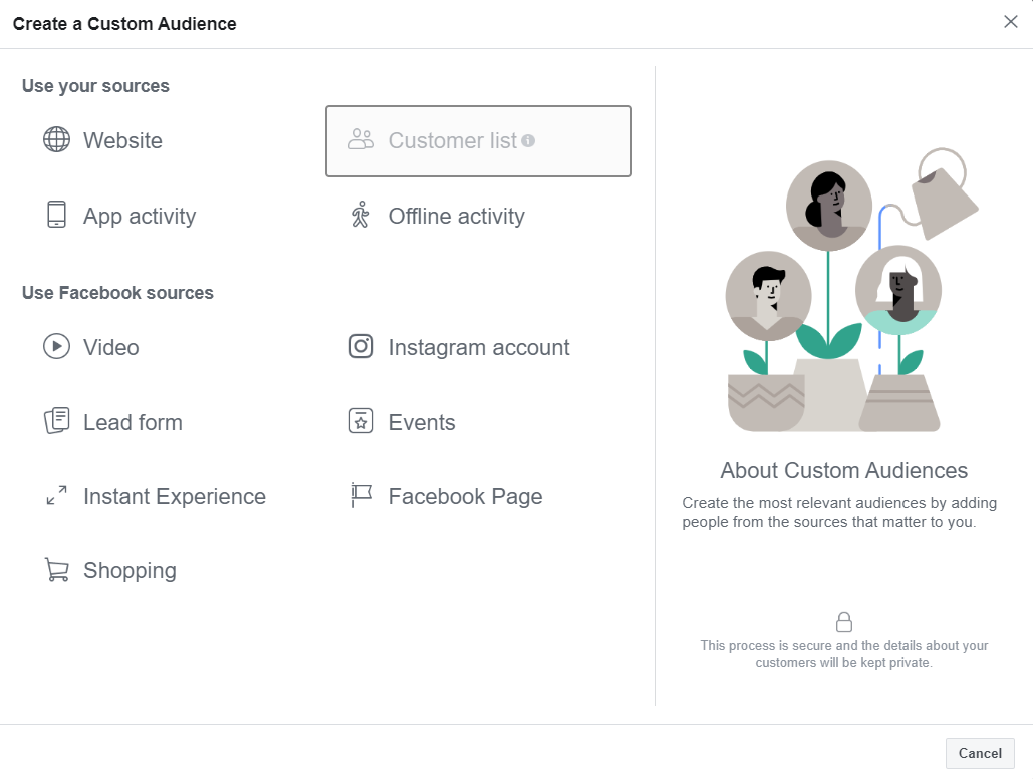 Concerning who will be included in the audience there are three options: people who viewed products, people who added any products to their cart and people who purchased any products.

6. Instagram Ads without a Facebook Ad Account Connection
Another Facebook update that is yet in a testing phase and might not be available in your region is the ability to create Instagram ads without connecting your Facebook Ad account.
This feature will only affect those who haven't yet advertised on Instagram and most likely haven't linked their Instagram and Facebook accounts.
If you're planning to advertise on Instagram for the first time, you will not need to connect your account to a Facebook Ad account. This will allow you to keep your Instagram and Facebook accounts separate. You'll manage and track your Facebook ads in Facebook ads manager and Instagram ads in your Instagram account.
Actually, it might be more convenient to keep and track both your Facebook and Instagram ads all in one place. As a new business you have the right to choose whether you want to connect your Instagram account to your Facebook Ad account and manage ads through Facebook Ads Manager.

7. New Facebook Email marketing tools
Facebook is currently working on implementing a set of tools for sending email campaigns through its platform.
You will be able to launch email campaigns on the uploaded Contact lists, customize design of emails and track the results through Facebook interface.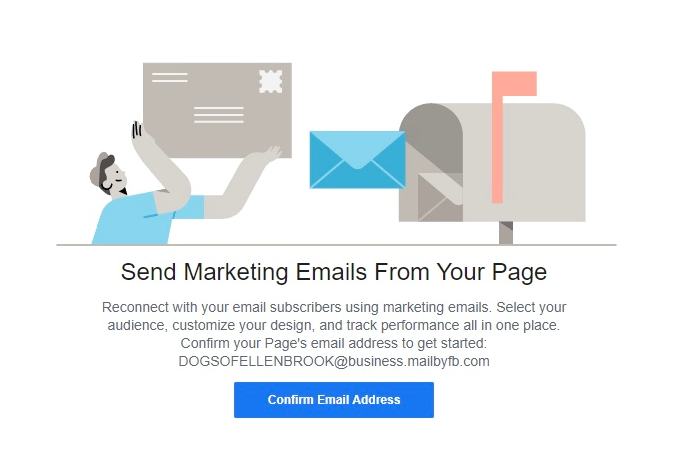 At the moment this feature is limited to a small number of small and midsized businesses. It will be useful for anyone who has a list of leads and is willing to retarget them.
In case this feature proves to be beneficial, Facebook will make it available to the broad audience.

8. Facebook Pay
Facebook is doing everything to make you stay on the platform instead of turning to other services. This year they introduced a new payment system called Facebook Pay designed to make payments online easier and more convenient.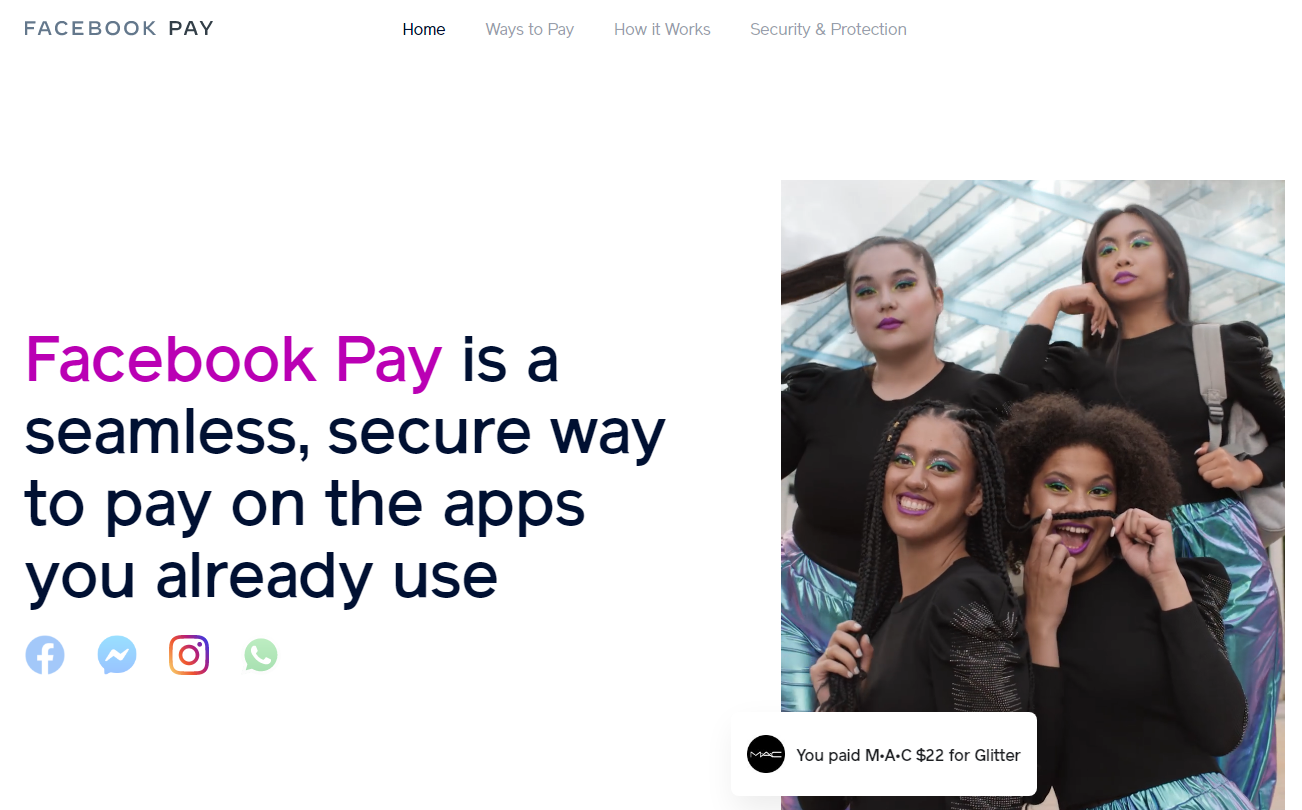 It will allow you to make transactions through Facebook, Instagram, Messenger and WhatsApp. You'll be able to send money to friends in personal messages, donate to fundraisers and make purchases in stores. Only credit cards can be used to make payments.
At the moment it's only available in the US. Once they make sure there are no glitches in the system, they will be ready to launch it internationally.

9. Facebook's Messenger Rooms
You most likely already know about this Facebook update but we can't let anyone miss this one. When the pandemic happened, Facebook quickly announced a video-calling feature that can be accessed through Facebook, Instagram, Messenger, WhatsApp or Facebook Portal.

You can create a "room" with up to 50 people including yourself. The chat can be open or closed so that no one could join a video call without permission. A group member can leave the room if they wish so or can be removed if they're unwanted.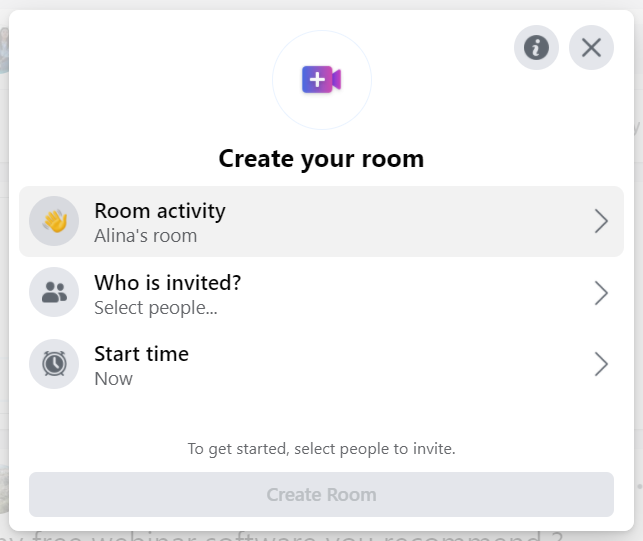 Just like Zoom, Facebook Messenger Rooms allows you to customize the background and change it to a virtual one. You can choose the topic for your room, select people to be invited and set up the start time.
Rooms can be accessed from any device, computer or phone. There's also no need to download any additional apps.
Messenger Rooms can be used to get closer with your audience. Staying in contact with your current or potential customers is crucial for promoting your business.

10. Special Ad Category requirements

Up to date, Facebook has singled out the following Special ad categories: housing, employment, credit, and issues, elections, politics. Businesses working in these categories are obliged to specify their ad category. There's no way to trick Facebook regarding this question. They thoroughly review all ads and sooner or later they'll detect if you lie.
The point is that some of the targeting options are unavailable for ads in housing, employment and credit categories. It's designed to prevent discrimination based on various demographics.
To run ads in such categories as issues, elections and politics, the advertiser must be authorized in the country where the ads are run, and the Ad account must be eligible to run ads in this category.
Generally speaking, what you can't do in the Special Ad category is exclude groups of people. If we go into detail:
you can't use saved or lookalike audiences, instead you can create and include (but not exclude) a Special Ad audience.
you can't specify age or gender,
the location radius is automatically changed to 15 miles or 25km for any selected place,
you can't exclude interests or demographics, inclusion of some interests is impossible as well,
targeting expansion is also unavailable in a Special Ad Category.

At the moment these restrictions are relevant to businesses in the US but from December 2020 they'll also apply to Canada.